Special Olympics

On the 14th of March, we held our Lá Glás and raised money for the Special Olympics. We raised a total of 314 euro! Well done to everybody who made a donation!

Boyne Athletics Club

A huge well done to our boys and girls who took part in the Boyne A.C Challenge Cup at the end of February. They did our school proud and won alot of medals along the way! It was a great experience for the children to run in the Lourdes Stadium! Also we can't forget Mr. Barnes who came first in the teachers race - a great role model for our pupils!

SkipnRope

During February, Mark from "Skipnrope" visited our school and carried out skipping workshops for the 3rd,4th,5th and 6th classes. The children all had a lot of fun learning new skipping skills and tricks! Some children got to show off their new skills during assembly to the rest of the school! Huge thanks to Mark for visiting our school and making skipping such an enjoyable experience for our pupils!
Drogheda and District AC

Well done to the boys and girls on our Athletics team who participated very well in Cross Country running on the 17th of January. The event was organised and hosted by the Drogheda and District Athletics Club on their new grounds and schools from around the county took part. Well Done to all our St. Paul's representatives and also to Mr. O' Connell, Mr. Barnes, Mr. Murphy and Lorraine for training the pupils and accompanying them on the day.

What club are you in?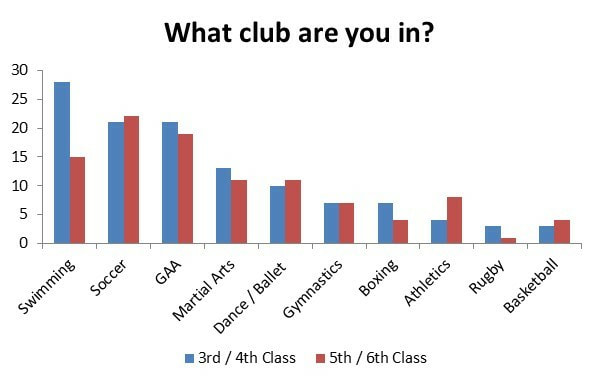 ​The Active Agents carried out the survey in their classes. They all worked together to compile the results from each year group.
​
---
The Goal Mile

As part of our Active Christmas event, the whole school participated in "The Goal Mile" on Thursday the 20th of December. The children all looked very festive dressed up in their Christmas jumpers and hats! The five weeks of taking part in "The Daily Mile" paid off as the children ran "The Goal Mile" with ease, even with some rain along the way!! The children brought in one euro each and all the money raised will be going to GOAL - a worthy cause. A huge thank you to GOAL for providing certificates and stickers for all the children! Well done to everyone for taking part!!
Lyn Dance Academy

All the 4th classes received dance lessons over a six week period from our dance instructor Kym from the "Lyn Dance Academy". Kym came to our school every Tuesday morning and did fun fitness circuits as warm-ups and creative dance. The children learned some really cool dance moves from Kym and had a lot of fun while being active! Thanks so much to Kym for coming to our school during the months of November and December! All the fourth classes really enjoyed it!

Athletics/Games 6th Class
6th Classes participated in Athletics and games over a six week period during the months of November and December. A huge thank you to our parents Pamela from Drogheda and District AC and also Gráinne who came in and carried out the activities. The children got the chance to improve and develop their fundamental movement skills as well as having fun and being active! Well done everyone!

The Daily Mile

St. Paul's took part in a non-competitive running initiative for five weeks during the months of November and December. All the children completed a mile each day in the school yard! It was a great to see all the children enjoying themselves and being active. Overall, the school ran an amazing total of 9,366 and a half miles! This is a fantastic achievement and a huge well done to all the children and teachers for making it such a success! A special word of thanks to Louth Sports Partnership for their expertise and resources, it was greatly appreciated.

Boys Gaelic team that reached the Cumann na mBunscoil final. Well done to the lads and teachers Mr. Murphy and Mr. Giggins.


Garda Sports Day "Commit to be Fit": November
Our students represented St. Paul's very well during the annual Garda Sports Day in the O' Raghallaigh's GFC grounds during November. Many medals were won by our school team in the 100m, 200m, Penalty kicks, Tug of War, Three legged race and the Relay. A word of thanks to the Garda Síochana of Drogheda for organising this fun event! Congratulations to our St. Paul's representatives!
Cross Country Championships: October

Congratulations to St. Paul's Cross Country team during the recent annual championships! They all did extremely well with the girls team taking home first place and Alicia in 6th Class coming second place! You all did our school proud!